Global LNG Trade Show Resilience Post COVID-19, Africa LNG Export to Grow Further in 2021 – GECF REPORT
By Ndubuisi Micheal Obineme
Global LNG trade shows positive resilience post-COVID-19 despite the impact of the coronavirus pandemic on gas production and demand in 2020, according to Gas Exporting Countries Forum (GECF) analysis.
As of 16th June 2021, there were 177 million confirmed cases of coronavirus and 3.82 million deaths. Over 1.2 million vaccines have been deployed which means that around 16% of the world population has been vaccinated.
In the pre-COVID-19 era, global GDP was expected to grow by 3.3% in 2020. While Gas demand was expected to grow from 2 – 2.5% in 2020.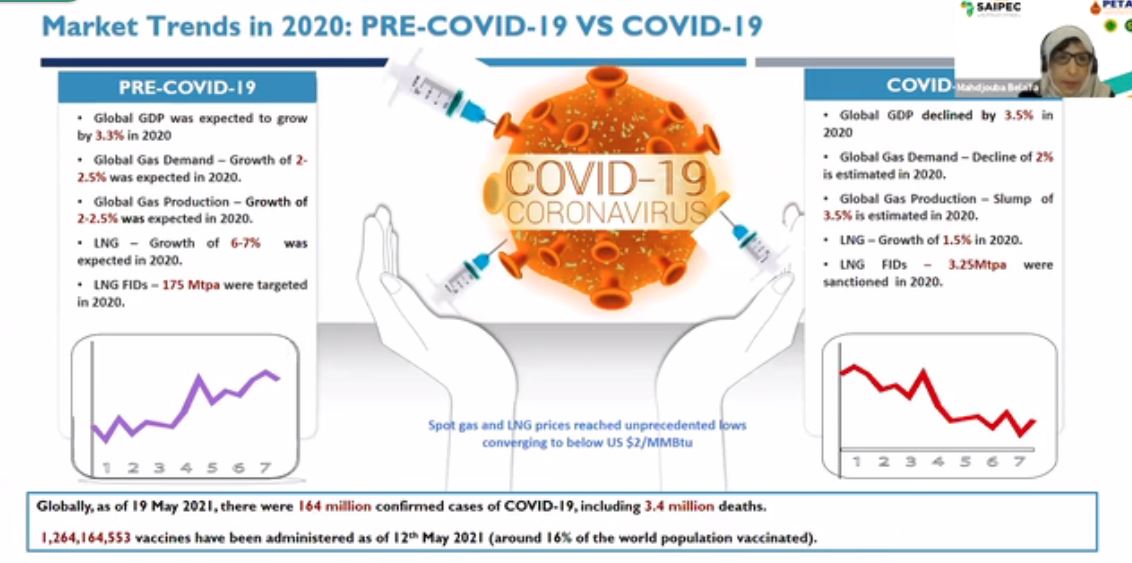 GECF noted that LNG supply was expected to grow from 6 – 7% in 2020. While LNG FIDs for 175 Mtpa were targeted in 2020.
According to GECF, global GDP declined by 3.5% in 2020. Global Gas production slumped to 3.5% and Gas demand declined by 2% in 2020. While LNG growth declined by 1.5% in 2020 and LNG FIDs for 3.25 Mtpa were sanctioned in 2020.
Upstream activities and natural gas production were affected by the COVID-19 pandemic in 2020. This situation led to a reduction in global natural gas production by 3% to around 3.8 Tcm, which is a loss of 115 Bcm driven by North America.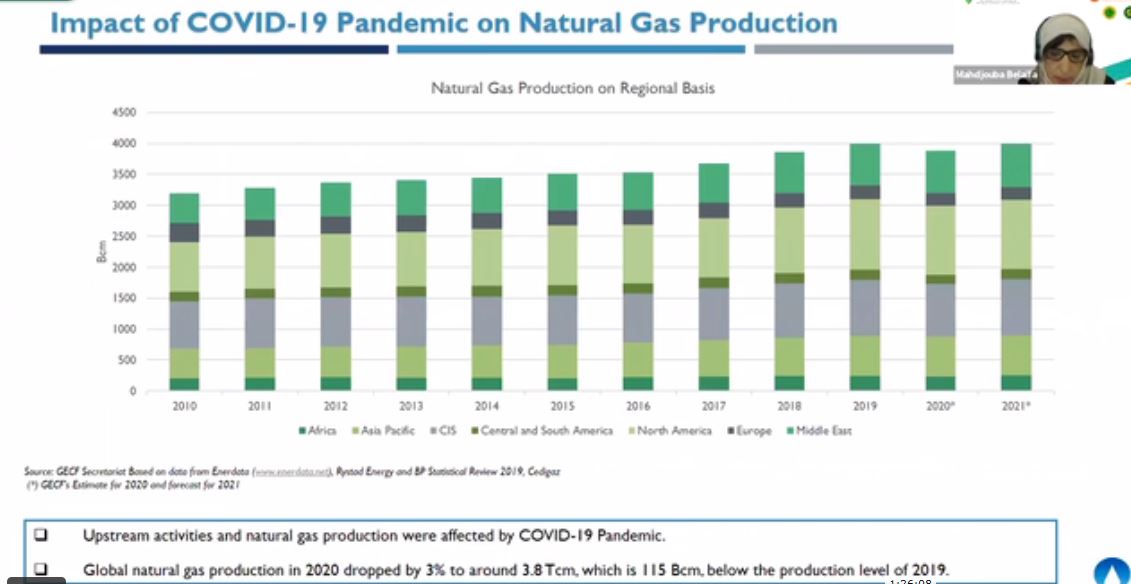 The EU pipeline gas imports fell by 14% in 2020 due to the market conditions and COVID-19 pandemic. Asia dropped in LNG trade, particularly in China and India.
However, FIDs on LNG projects were impacted and about more than 170 million tonnes of LNG project that was expecting FIDs in 2020 were cancelled/postponed.
Only one LNG project in Mexico and the U.S with a capacity of 3.25 Mtpa took FID last year while other FIDs for 170 Mtpa were postponed.
Now, with spot gas and LNG prices having surged to all-time lows converging to below the US $2/MMBtu in 2020 – the COVID-19 era was characterised by lower growth which brought down all the market drivers and taking the market into recession.
For the post-COVID-19 era, the GECF outlook highlighted that there have been a sign of growth following the rollout of the vaccines, noting that the global economy is expected to recover by 6% in 2021 and by 4.4% in 2022.
GECF has affirmed that the global LNG trade is expected to rebound around 5-6% which is 20 million tonnes each in 2021 and 2022.
In Q1 2021, Gas consumption in major consuming countries in Europe and Asia increase sharply which was driven by the winter temperatures. About 40% out of the 80 bcm which was lost in 2020 has been recovered in Q1 2021 driven by the economic recoveries of countries.
In the US, gas consumption recorded a decline in the first quarter of 2021 driven by the rise of coal use in the power generation mix.
In Q2 2021, pipeline gas exports from GECF member countries to Europe rose by 12% year-on-year to 100 bcm which is higher than in 2020. Major gas exports of about 80% go to Europe mainly to Spain.
GECF affirmed that global Gas demand will continue to increase from 1.5-3% under two conditions which are if COVID-19 restrictions are relieved and quick recovery in gas demand in the power, industrial sector.
Early this year, two LNG FIDs were taken. The first FID is the Qatar LNG Expansion project (33 Mtpa) which is set to increase to 110 Mtpa by 2025.
GECF has said that between 2021 and 2023, around 200 Mtpa of LNG projects are targeting FID with around 23 Mtpa in Africa.
While the LNG price tag continues trending in the first quarter of 2021, the NEA LNG prices recorded a daily high of almost $40 MMBU. In February, it reached a record high of almost $24 of MMBU.
Africa's GDP is expected to rebound to 3.4% in 2021, and 4% in 2022. While Gas production will start to recover in 2021 and will continue to grow further by 2022.
Africa accounts for 11% of global LNG exports and its LNG exports have increased by more than five million tonnes in the last five years.
Despite the decline of LNG exports in 2020, LNG export from Africa will grow in 2021 based on the current development in the oil and gas industry.
GECF's outlook highlighted that 26 Mtpa of new LNG capacity is expected to be commissioned in Africa between 2021 and 2027 which represents 17% of the global capacity addition during this period.
Though the Inter-regional pipeline gas trade is still relatively small in Africa with only two Sub-Saharan countries – South Africa and Ghana importing pipeline gas from their neighbours.
Besides, two North African countries – Tunisia and Morroco import pipeline gas. While Algeria accounts for about 80% of regional gas pipeline export.
GECF sees a bright future from LNG exports from Africa to meet the growing energy demand and is supporting Africa's LNG industry through gas supplies from its member countries.
Africa is well-positioned to supply the emerging and potential market. The continent is an attractive destination for LNG business as Nigeria, Ghana, Ivory Coast, Morocco, Namibia, South Africa are potential markets.
Africa has great potential for natural gas and renewable energy sources. Its economies are growing fast and there is a cordial relationship going on between Africa and the global community.