Nigeria Achieves 42% Local Content in $20.4bn Spent on Oil, Gas Projects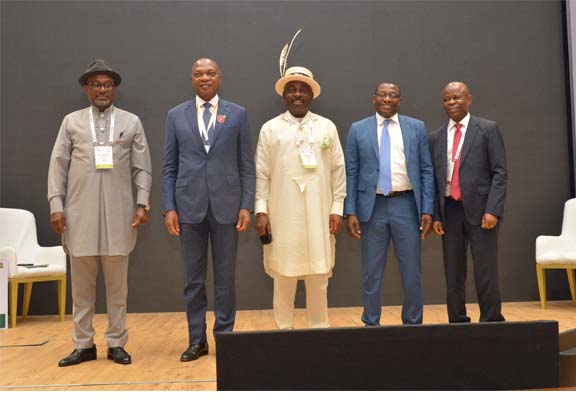 Post Views: 1320
By Ndubuisi Micheal Obineme
The Nigerian oil and gas industry has achieved 42 percent local content in $20.4 billion spent on major projects by oil firms between 2016 and 2020 through local content development, as the Federal Government has outlined plans to increase the Nigerian Content through the in-country capacity to 70 percent.
Executive Secretary, Nigerian Content Development and Monitoring Board (NCDMB), Engr. Simbi Kesiye Wabote revealed this at the 10th Practical Nigerian Content Conference (PNC) held at the Nigerian Content Tower in Yenagoa, Bayelsa State from 29th November -2nd December, with the theme "Driving Nigerian Content in the New Dawn of the Petroleum Industry Act (PAI)".
According to NCDMB, the Nigerian Oil and Gas Industry spent approximately $20.4 billion in key areas such as Engineering, Procurement, Fabrication, Project Management, and Services.
Wabote said, "The top industry spend are $8.07billion on fabrication representing 39 percent of spending; $4.74billion on Engineering services representing 23 percent of spend, and $5.67billion on Procurement of manufactured materials, representing 28 percent of spend.
"While the low spend areas include $1.18billion on Services representing six percent of spend and $746million on project management representing 4 percent of spend, adding that the aggregated level of Nigerian Content across the five categories is 42 percent.
"That is why we are keen to ensure that the established in-country fabrication yards are utilized for sanctioned projects such as NLNG Train-7 as well as drive local manufacturing of goods such as chemicals, hardware, spares, accessories, and other consumables via our commercial venture partnerships and our oil and gas industrial parks.
"We are on track towards the 70 percent Nigerian Content target but we will need the support of all industry stakeholders to make it happen."
Wabote stated further that the implementation of the PIA (2021) has further reinforced the role of NCDMB in the oil and gas industry, adding, "we are poised to fully utilize the opportunity provided to derive maximum benefit for our country."
Going forward, he noted that the areas for focus include fabrication and procurement of materials if the industry is to realize the 70 percent target by 2027.
Minister of State for Petroleum Resources, Timipre Sylva who was represented by the Director Human Resources, Dr. Famous Eseduwo, urged the board to stay focused on the implementation of the Nigerian Content 10-Year Strategic Roadmap to grow Nigerian Content to the targeted level of 70% by 2027.