Nigeria: President Buhari Inaugurates $18bn Dangote Refinery, Products To Reach Market In August 2023
By Ndubuisi Micheal Obineme
Lagos, Nigeria – President Muhammadu Buhari has inaugurated Dangote Petroleum Refinery in Ibeju-Lekki, Lagos, which was constructed at the cost of $18 billion USD. The facility is expected to enable Nigeria to achieve self-sufficiency in refined products and even have surplus for export.
The President performed the ceremony on Monday 22nd May 2023, and the Presidents of Ghana, Niger, Togo, Senegal and a representative of the Chadian President were present at the commissioning.
In his words, "This mega industry we are commissioning today is a clear example of what can be achieved when entrepreneurs are encouraged and supported and when an enabling environment is created for investments and for businesses to thrive.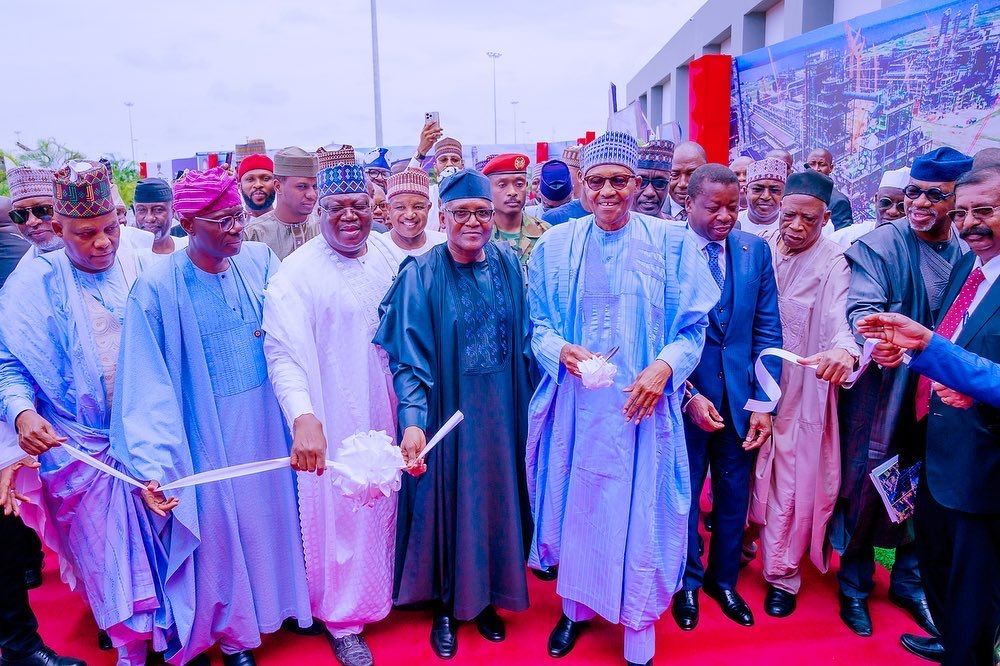 "I am confident that my successor, His Excellency Asiwaju Bola Ahmed Tinubu, will sustain the improvement in our economic and business environment and strengthen the framework of our public private partnership policies to accelerate the pace of our economic growth and development.
"I am happy to leave our economy in very competent hands."
Furthermore, President Buhari said that there is a need for African countries to come together, integrate their economies, eliminate trade barriers, and rally their populations to achieve Agenda 2063 for the continent's prosperity.
"I urge and encourage our other great entrepreneurs to emulate this iconic Nigerian industrialist and join the Government in accelerating our growth in order to realize our country's globally recognized economic potential.
"When I travel around Africa and meet and engage my brother Heads of State (and I am delighted some of their Excellences are here) I often sense a quiet expectation that our country is blessed with resources and human capacity to lead Africa's rise to economic prosperity and the attainment of Agenda 2063 – 'The Africa we all want.'
"But to achieve the goals of Agenda 2063, Africa must come together – we must integrate our economies, eliminate barriers to trade and energize our youthful population to scale up our productive capacity.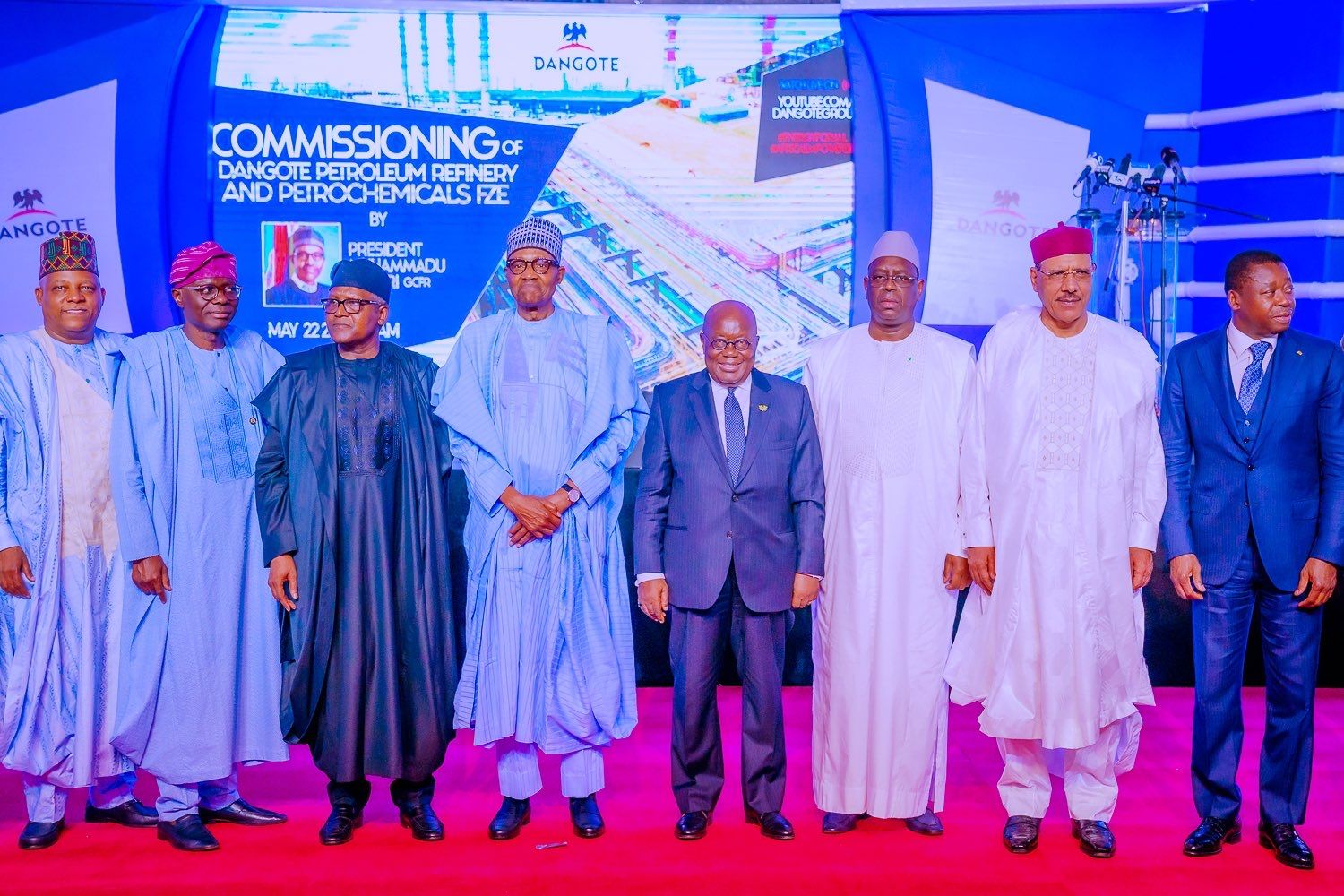 "We must create necessary conditions for our private sector to grow and partner with the public sector to accelerate economic growth across the continent.
"We must not allow outside powers to use some of our leaders to destabilize our economic and political trajectory."
President Buhari acknowledged the visionary investments made by the Dangote Group, under the leadership of Dangote, in transforming Nigeria's economy through its involvement in critical industries such as cement and fertilizer.
He noted that investment in these sectors have played a crucial role in shifting Nigeria from heavy import dependence to becoming a net exporter.
He also acknowledged that Nigeria's economy has faced significant challenges over the years, including deficits in economic infrastructure, insurgency, and external crises such as the Global Financial Crisis, oil price collapses, the COVID-19 pandemic, and the Russia-Ukraine war.
Buhari also said: ''The consequence of these challenges constitute a severe strain on our economy, limiting the Government's ability to provide basic infrastructure without resorting to huge borrowings.
"Our Government, therefore, took the decision to focus attention on creating an enabling environment for the private sector to thrive and fill the enormous gap in investments not only in infrastructure but also in all critical sectors.
"We recognize that without the active participation of the private sector and a strong commitment to public private partnership, our economy would continue to remain severely challenged and our economic growth impeded.
"Government therefore, will and should continue to provide an enabling environment and encourage innovative public private partnerships in all sectors of our economy."
On his part, chairman of the Dangote group, Alhaji Aliko Dangote emphasised the refinery's role in fulfilling the group's corporate vision of promoting self-sufficiency and global competitiveness.
Dangote also revealed that the Dangote Petroleum Refinery and Petrochemicals' first product will hit the market before the end of "July or the beginning of August" this year.
He added: "We have built a Refinery with a capacity to process 650,000 barrels per day (plus 900,000 tonnes of polypropylene) in a single train – which is the largest in the world. We have selected the best plants and equipment and the latest technologies from across the world.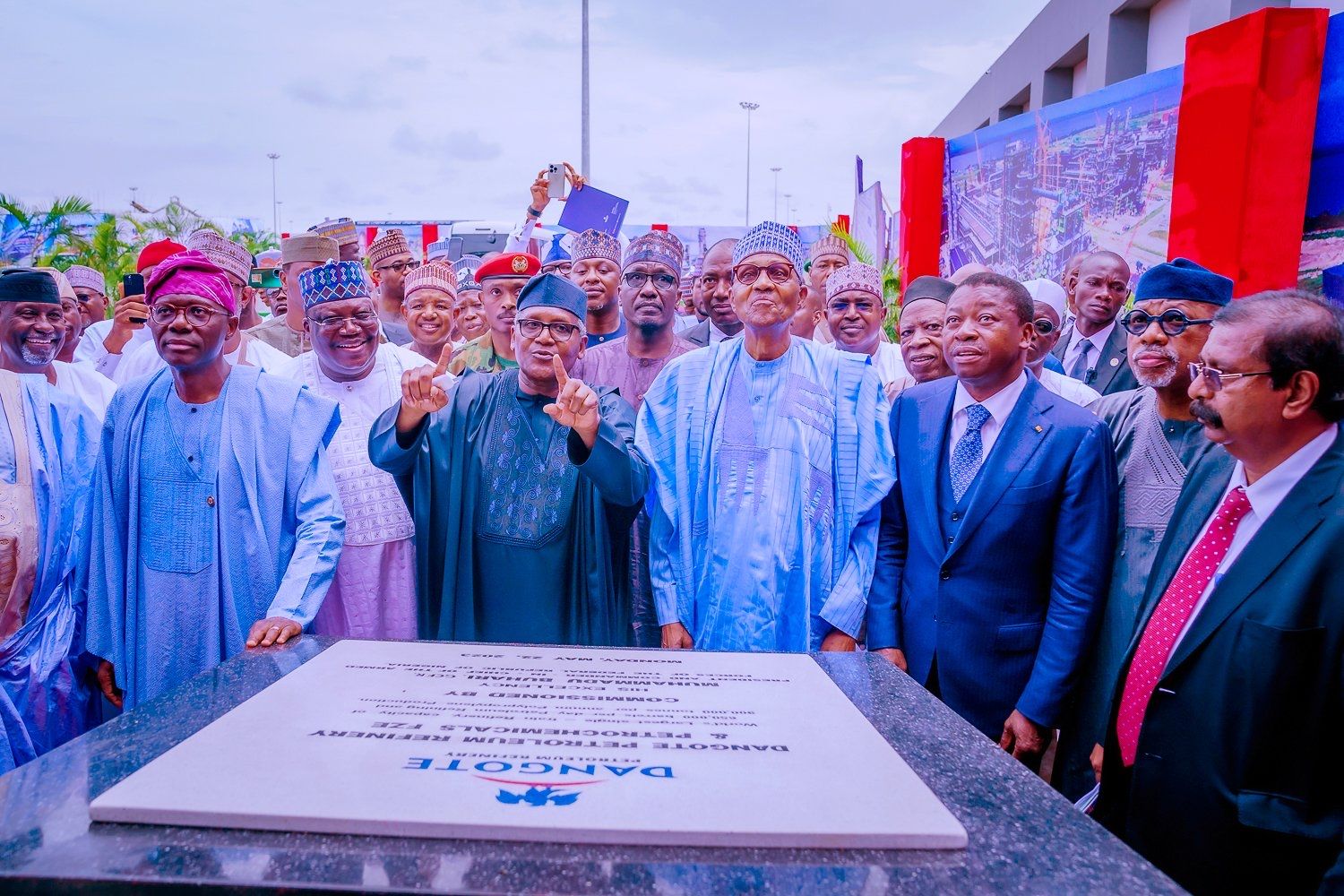 "Our products slate is designed to meet the highest quality standards and high-value products including Premium Motor Spirit (PMS), Automotive Gas Oil (Diesel), Aviation Turbine Kerosine (ATK); all of Euro V Standards that will enable us not only meet our Country's demand but also to become a key player in the African and global market.
"Our coastal location and offshore loading and offloading (SPM) facilities with a capacity to receive all our crude oil supplies and evacuate up to 75% of our liquid products give us direct access to the rest of Africa and the global market for exports. In addition, 80 percent of our production can be discharged through trucks nationwide."
Dangote disclosed that the huge investment of over $18.5billion in this industry was prompted by the company's desire to support and contribute its quota to the Federal Government's sustained effort to transform the economy and reposition Nigeria as the leading nation in Africa, and a respected member among emerging economies in the world.
According to him, apart from ensuring a consistent supply of high-quality fuels for the transportation sector, the refinery will provide essential raw materials to a wide range of manufacturing sectors, including plastics, pharmaceuticals, food and beverages, packaging, construction, and more.
He further stated that the refinery's operation and related businesses would generate a substantial number of job opportunities, while the downstream supply and distribution of its products would significantly contribute to the absorption of labor, potentially benefiting hundreds of thousands of individuals.
The Chairman of the Dangote Group further said: "Once our plant is fully on stream, we expect that at least 40% of the capacity will be available for export and this will result in significant Foreign Exchange inflows into the country.
"Overall, we are committed to operating our Plant in line with international best practice requirements, recognizing the importance of protecting the environment, and putting in place stringent environmental, health and safety policies to ensure that the Refinery operates in a safe and sustainable manner."
Nigeria's new Dangote petroleum refinery is Africa's biggest – it will produce 650,000 barrels a day, giving it the potential to address the country's energy supply crisis.
Owned by Nigerian industrialist and Africa's richest man, Aliko Dangote, the refinery is expected to boost domestic refining capacity, getting rid of the current consumption shortfall. It will also reduce import dependency and stimulate economic growth.
It is the first privately owned crudeoil refinery in Nigeria.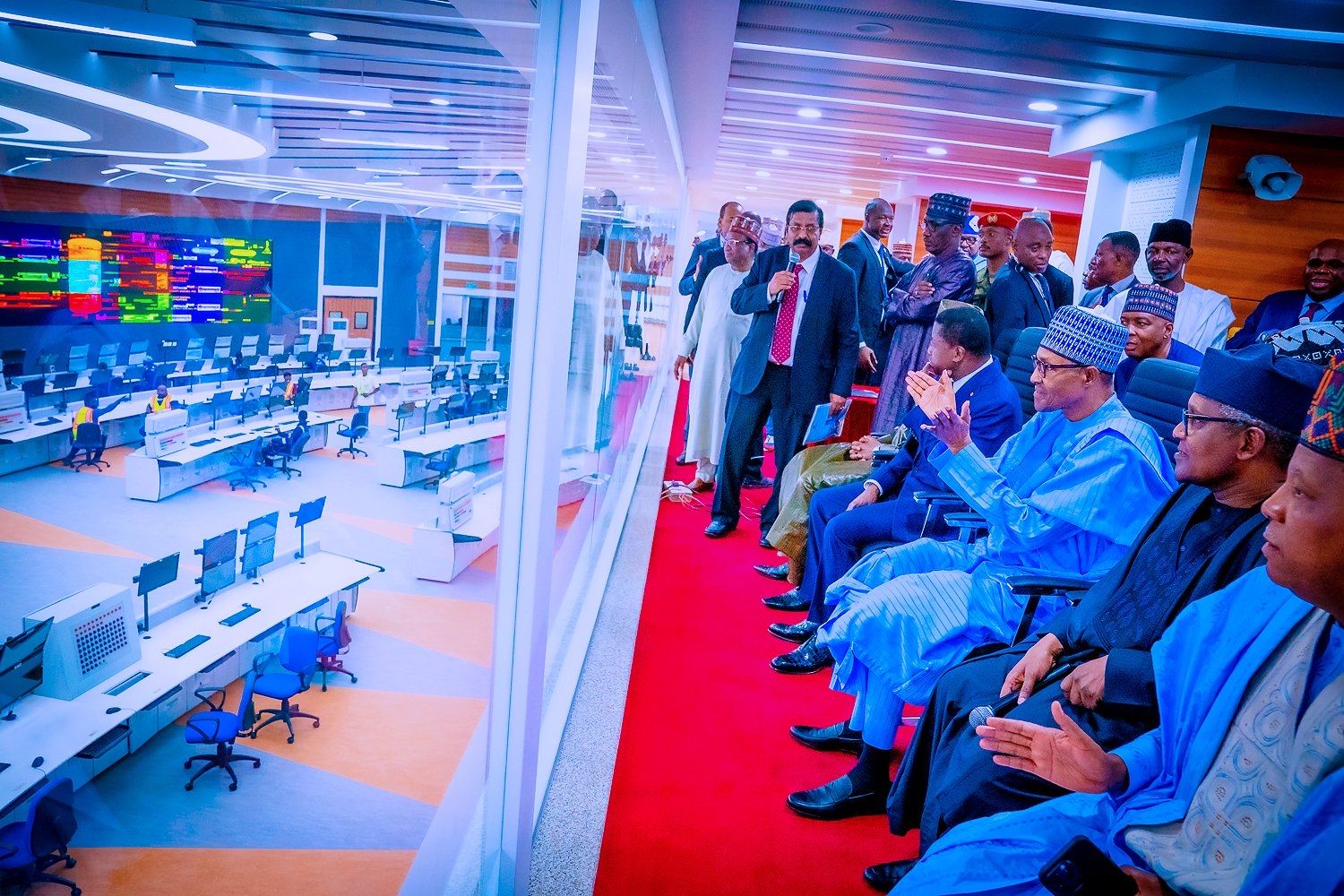 Key Facts About Dangote Petroleum Refinery
• The Dangote Petroleum Refinery is located in Ibeju-Lekki, Lagos, covering a land area of approximately 2,635 hectares (seven times the size of Victoria Island.)
• World's Largest Single-Train 650,000 barrels per day Petroleum Refinery with 900 KTPA Polypropylene Plant.
• The 435 MW Power Plant in the Refinery alone will be able to meet the total power requirement of Ibadan DisCo of 860,316 MWh covering five States including Oyo, Ogun, Osun, Kwara and Ekiti.
• The Refinery can meet 100% of the Nigerian requirement of all refined products (Gasoline, 53 million litres per day; Diesel, 34 litres per day; Kerosene, 10 million litres per day and Aviation Jet, 2 million litres per day) and also have a surplus of each of these products for export.
The Refinery will also supply West African countries and AfCFTA member states.